Master of Acupuncture & Doctor of Chiropractic (California)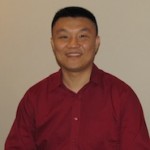 Growing up in a family with two doctors of Traditional Chinese Medicine in Taiwan, Stephen grew up in the midst of Chinese herbs, acupuncture needles, *Tui-Na therapy and herbal patches.  It was this approach his uncle used to treat him with when he fractured his collarbone at the age of 7.
Stephen is a Taiwanese Canadian who moved with his family to Canada when he was in junior high.   He then completed a major in biochemistry at the University of Alberta.
Stephen went on to pursue a double degree in Doctor of Chiropractic and Master of Acupuncture and Oriental Medicine in Los Angeles, California. He is one of few practitioners in Canada with degrees in both Chiropractic and Traditional Chinese Medicine.  He is now a Registered Acupuncturist with CTCMA in the province of BC.
Stephen treats the body from both internal and external causes.  With his background and training in Acupuncture, *Tui-Na therapy and Chiropractic, he has a key advantage in  treating patients with sports injuries, work related injuries, pain syndromes, frozen shoulder, knee pain, and foot problems.  He is also successful with gynecological and menstrual difficulties and menopausal conditions.  Insomnia, digestive issues, chronic fatigue, stress and anxiety, headaches and migraines, and depression are other conditions he is well experienced in treating.
He believes that if we treat the body as a whole we see amazing results. Working with the team at back to wellness will be an excellent combination of disciplines that will enhance treatment results with our patients.
*Tui-Na therapy – Wilkepedia definition:
Tui na or tuina pronounced (tōō·ē nä)[2] is a form of Chinese manipulative therapy often used in conjunction with acupuncture, moxibustion, fire cupping, Chinese herbalism, t'ai chi, and qigong.[3] Tui na is a hands-on body treatment that uses Chinese taoist and martial arts principles in an effort to bring the eight principles of Traditional Chinese Medicine (TCM) into balance. The practitioner may brush, knead, roll/press, and rub the areas between each of the joints,known as the eight gates, to attempt to open the body's defensive (wei) chi and get the energy moving in the meridians and the muscles.[3] The practitioner can then use range of motion, traction, and massage, with the stimulation of acupressure points. These techniques are claimed to aid in the treatment of both acute and chronic musculoskeletal conditions, as well as many non-musculoskeletal conditions.[4] Tui na is an integral part of TCM and is taught in TCM schools as part of formal training in Oriental medicine.[citation needed] Many East Asian martial arts schools also teach Tui na to their advanced students for the treatment and management of injury and pain due to training.
HOURS: Tuesday, Thursday & Friday 10am-8pm; Saturday 9am-6pm