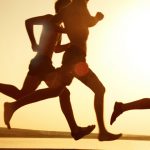 Starting a fitness routine is a challenge, starting one at home on your own time is even more of a challenge. Many people have memberships to gyms, yoga studios and other fitness centres and they very rarely attend.
Having a fitness routine, needs to be exactly that a routine. In order to maintain and continue on a regular basis you need to make it convenient and a part of your daily life, just like brushing your teeth.
A fitness routine doesn't have to be two hours on a treadmill or even a 20km run, but rather it can be as simple as 10 minutes a day. It is easier to commit to something that is more attainable, like 10 minutes a day, than finding 2 hours every day to exercise. Like new year's resolutions we often commit to something that is unattainable, rather than starting with what we can work with, 10 minutes a day.