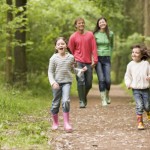 The kids are back to school, the busy season in most industries is now picking up once again. September means back to schedules, meetings, routines and after school events, and usually means an increase in our stress levels. Gone are the lazy days of summer, the BBQ's, trips to the beach and fun in the sun, but taking time to still enjoy the summer pleasures even when the weather turns bad is still possible.
Here are 5 Tips to Combat Stress this Fall:
Schedule Downtime:
Sometimes the only way to get our downtime when things get busy, is to actually book time. Make sure you are reserving time for you and family time to do the things you love to do. Go for a walk, read a book, turn off the phone and the computer or leave them at home and reserve that time for whatever activity you decide and commit to it.
Plan your Week:
Not only plan downtime, but plan out your whole week. Where you need to go, make  list of the things you need to do, bills you need to pay so when the week starts you know what you need to do. Leaving space for unexpected meetings, events and activities. When you allocate the time, you are less stressed instead of it being friday and then finding out you forgot to do this and that.
Get Your Rest:
Set yourself a bed time, the reason we do this for our kids is so they are well rested in the morning. Do this for yourself, how many hours do you feel you need in order to feel refreshed? See if you can do this at least 2-3 times a week at least!
Make DietaryChanges:
Are you eating properly, getting enough iron, vitamin C and other important vitamins? We often start to feel depleted and drained when our bodies aren't getting enough nutrients. Are we drinking too much coffee, eating too much junk food and not eating balanced meals? Have a look at what's on your menu and see where you can make some healthier choices.
Exercise:
Exercising is not only good for our bodies, but it increases our moods. It allows us to get rid of that extra tension and to clear our minds.
Most importantly, be kind to yourself. Don't feel bad for taking time for yourself and family away from technology, work and homework. Family and friends is what life is all about. What else do you do to help combat stress?