Dr. Rozina Budhwani, B.Sc., DC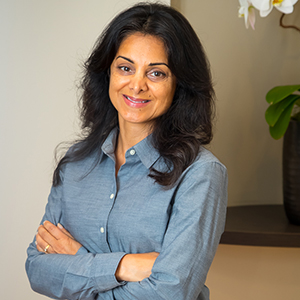 For almost 20 years, Dr. Rozina Budhwani has developed a style of practice that combines correcting misaligned joints with specific muscle exercise techniques. She believes that an accurate diagnosis or getting to the root cause of the problem is the key to proper healing.
Dr. Rozina graduated from Simon Fraser University in Kinesiology and started her career as a Health Promotion Assistant for the Vancouver Air Traffic Controllers. She then transferred to West Coast Kinesiologists Company in Maple Ridge implementing exercise programs for motor vehicle accident victims. Four years later she decided to pursue Chiropractic.
Dr. Rozina completed the four-year Chiropractic program at Los Angeles Chiropractic College and graduated with honours. She was given the opportunity to work with some of the most reputable Chiropractors in LA.
Dr. Rozina is certified in the Webster technique which is a specific chiropractic sacral analysis and diversified adjustment for all weight-bearing individuals. Her areas of interest include sports injuries, posture and orthotic assessments, children's spinal health, acute and chronic care.
Dr. Rozina Budhwani's Hours
Mon: 9:00am – 12:30pm
Tue: unavailable
Wed: 9:00am – 5:00pm
Thu: unavailable
Fri: 10:00am – 5:00pm
Sat: 11:00am – 3:00pm
request an appointment with our local chiropractor