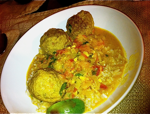 by Dr. Alexa Rauscher, Naturopathic Doctor
On to the first adventure, and a risky one at that! I have never made a curry that didn't come out of a jar or a pre-packaged mix.  All of the new spices I am about to try intrigue me.  The aroma as I open each jar excites my senses.  In addition to try and cook with new spices, I am cooking lamb all by myself for the first time.
Here is the recipe that I am working with:
Serving Size: 6
Preparation and Cooking Time: 1 Hour
Ingredients- Lamb Meatballs
1 Pound Minced Lamb
½ tsp Cumin
¼ tsp Cinnamon
¼ tsp freshly ground Black Pepper
1 tsp Kosher Salt
1 Egg
¼ Cup Gluten Free Bread Crumbs
In a large mixing bowl, combine all of the above ingredients.  Mix gently and just enough for all the ingredients to be fully blended.  Begin to make into lamb balls of desired size.
Ingredients- Coconut Curry
4 Medium tomatoes, chopped
1 Medium Onion, chopped
1 Can Coconut Milk
2 Garlic Cloves
1 Tbsp Coconut Oil
1 Chili Pepper
½ tsp Cayenne Pepper
½ tsp Turmeric
½ tsp Curry Powder
Salt to Taste
¼ Cup of Cilantro
Chop up the onions, garlic and chili pepper- you can use the food processor to save time.  Add 1 TBSP of coconut oil to a pot on med-high heat. Once heated, add the mix to the frying pan with 1 TBSP of coconut milk for 5 minutes. Then add all other ingredients including the tomatoes, cayenne pepper, turmeric, and curry powder and remaining coconut milk.
While this has been started, place the lamb meatballs into a fry pan at medium-high heat and brown the outsides.  Once brown, combine them to the sauce.  Turn the heat down to low and let simmer for 30-45 minutes.
Towards the ending of the cooking time, add in the cilantro and mix.
This dish turned out to be amazing! And it is both dairy and gluten free.  As the saying goes, you learn something new every day.  What I learned is that lamb doesn't need to be worked as much as beef or even turkey.  Be careful not over mix the lamb balls as they can turn out on the chewier side if you do.  A simple blending of the ingredients will suffice before forming them into the lamb balls.
A little Tidbit about…
Coconut: Did you know that coconut provides you with many nutrients including calcium, magnesium, potassium, phosphorus, iron and zinc?  In addition, it improves the production of digestive enzyme, the absorption of many nutrients and the regulation of blood sugar levels.
Turmeric: Here is another healthy addition to a meal.  Turmeric is a powerful healing spice.  It is both anti-inflammatory and antioxidant, giving much support to the liver and detoxification.  It can also be used on cuts and scrapes directly on the skin as an antiseptic and antibacterial.