The summer sun has finally arrived and appears to be sticking around. With it brings sunburns, heat exhaustion and dehydration, are you taking care of yourself?The good news, WE CAN HELP! Massage Therapy,Intravenous Vitamin Therapy and Naturopathy are only some tools that can help you get through some of the troubles that summer and heat can bring.
4 Summer Wellness TipsThe heat and sun can lead to many serious illnesses and accidents. Make sure you start your summer off right by knowing how to keep you and your family happy and healthy during this fun time of year:
Sunscreen. This is not new information. However, make sure you choose sunscreen that does not have cancer causing ingredients in it. Recent studies warn against the ingredients PABA, benzophenone-3, homosalate, octyl-methoxycinnamate (OMC) and 4-methyl-benzylidene camphor (4- MBC) due to the possible link to skin cancer!
Vitamin D! Living where we do, we don't always have access to natural Vitamin D, the summer is a great time to soak it up! The best source of vitamin D is the sun, but make sure you have your sunscreen on!
H20! Drink more water, as the sun warms us up, we get dehydrated much faster. Make sure you are consuming enough water throughout the warm summer days.
Relax! The summer heat can be draining, it can wear us out! Take lots of breaks, move slow and if you are feeling incredibly hot make sure you've gotten enough water and relax. Vigorous activity during the summer months, especially when its warm can make us dehydrate quickly.
And most important, enjoy it while it lasts!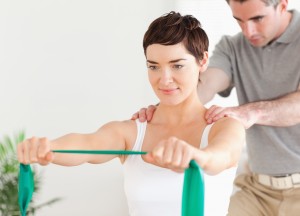 Treat the Cause, Not the Symptom!All your life you've had your teeth, eyes, hearing, blood pressure and heart checked…..how many years has it been since you've had your spinal check-up? Unfortunately, most of us have never had this done – and it shows! Most people's spines are suffering from a lifetime of neglect.As chiropractors we specialize in locating spinal bones which are stuck out of position or which have abnormal motion. This may result in stretching, rubbing or chafing a nerve, which feels like a "pinched nerve". These "Subluxations" can interfere with nerve messages between the brain and the body, producing unhealthy changes to affect muscles, joints and possibly organs.We remove this interference by using spinal manipulations called "adjustments". We are able to normalize nervous system function so that your body can heal itself. In this way we treat the cause of your trouble and not just your symptoms.
 
Save 10% off of Santevia Water Jugs & Alkaline Sticks!

The Santevia ALKALINE Water Filtration Pitcher creates healthy mineralized and alkaline water in a convenient hand held pitcher that can fit in the door of your refrigerator.Essential minerals are critical to your health and help you balance your body pH and stay healthy. The World Health Organization recommends that you drink mineralized water.
Offer Expires: August 30th, 2013