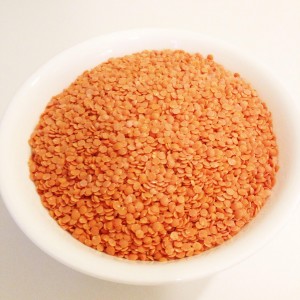 This is the perfect recipe for dreary Fall weather in BC. It's hearty, filling, and will warm you up from the inside out. The best thing about this recipe however, is there's only a handful of ingredients, each of which pack a ton of nutritional benefits. The more you make it, the more you can adjust the flavors to your liking, making it a super convenient, super healthy recipe to incorporate into your weekly meal plan.

Ingredients:
Vegetarian soup stock (low sodium if possible) x 1.5 Liters
Onions, medium size. Yellow or Spanish onions are preferred x 2
Tomatoes, medium x 2 – 3
Garlic x 8 cloves chopped fine or pureed
Ginger x 2 square inches chopped fine or pureed
Dry Red Lentils x 2 cups
Turmeric x 2 heaping teaspoons
Cumin x 1.5 heaping teaspoons
Honey x 1 teaspoon
Salt + pepper to taste
Cilantro and lemon to garnish
*When we say a "heaping teaspoon", we mean it! See picture below.
Process:
1. In a food processor, blend onions and tomatoes together, transfer to a bowl and pour out excess liquid.
2. Heat 2 TBSP of cooking oil in a large pot, we recommend using coconut oil
3. Add tomato/onion puree when ready. Let this cook down for a few minutes, stirring regularly
4. In a food processor, blend garlic and ginger with a pinch of salt. Add to tomato/onion puree, continue frying for another 3-5 minutes, stirring regularly. Make sure the mixture isn't sticking or burning to the bottom of the pot
5. Add spices + 2 TSP. of salt. Fry spices in put with other ingredients. If spices begin to stick, add a spoonful of water to the mixture. Fry for a few minutes (until spices begin to separate slightly from other ingredients)
6. Add lentils and soup stock, cover with lid and bring to a boil. Once the curry is boiling, set heat to low and partially remove lid, drizzly honey into pot. Let curry simmer for 15 – 20 minutes, stirring regularly.
7. Remove from heat. Let sit for 1 hour tow allow the flavors to come out. The longer you can wait the better, try waiting overnight.
8. Squeeze in fresh lemon, transfer to serving bowls, garnish with cilantro. You can also blend the curry for a smoother consistency.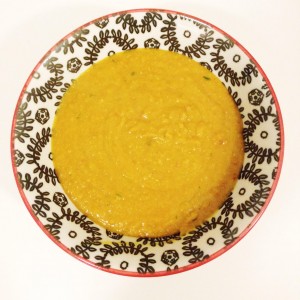 Health Benefits:
Garlic: high in Vitamin B6 and C, improves cholesterol levels, boosts immunity,
Ginger: anti-inflammatory, cancer fighting, immunity boosting, aids digestion.
Turmeric: antioxidant, powerful anti-inflammatory
Lentils: good source of potassium, calcium, zinc, niacin and vitamin K, but are particularly rich in dietary fiber, lean protein, folate and iron