By Dr. Alexa Rauscher, Naturopathic Doctor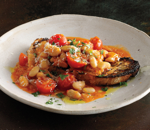 This recipe was definitely out of my comfort zone.  I must admit, besides eating hummus, bean salad and the occasional chili, I haven't cooked much with legumes.  I wanted to try a recipe that was vegetarian.  Now I did modify it my changing the vegetable broth to chicken broth and adding in turkey sausage, but the basics of this recipe is vegetarian.
I made this recipe a couple of weeks ago and I am still proud at how well it turned out.  The depth of all of the flavours, the fullness of the meal…it was surprisingly delightful.
Here is the recipe…
Serving Size: 4-6
Preparation and Cooking Time: 45 minutes.
Ingredients- Lamb Meatballs
3 Medium Onions, chopped
1 Red Bell Pepper, chopped
Extra Virgin Olive Oil
Kosher Salt
Freshly Ground Pepper
3 Garlic Cloves, finely grated
2 tsp Tomato Paste
2 15-Ounce Cans Cannellini (White Kidney) Beans, rinsed and drained
3 Cups Vegetable Broth, divided
1 Cup Cherry Tomatoes, halved
2 tsp Flat-leaf Parsley, chopped
Before I give you the directions to this dish, I want to note that I made a fair bit of modifications to the recipe.  Now, I usually make these modifications at the end, but I am going to do it slightly different for this recipe.  All my modifications will be in red font, to make it easier for you as you cook.
And so we begin…
Pulse the onions in a food processor until finely chopped, but do not puree them.  Transfer to a medium bowl.  Pulse bell pepper in processor until finely chopped, but not pureed.  Add this mixture to the bowl.  Strain the onion/red pepper mix, removing any excess liquid from the mix.
Heat several TBSP of olive oil in a large heavy skillet over medium heat.  Add onion mixture and season with salt and pepper.  Simmer, stirring often, until vegetables are completely soft, about 30 minutes.  Add finely grated garlic and tomato paste and cook.  Stir often, until tomato paste begins to turn a deep red, about 3 minutes.  Remove from skillet and place into a bowl.  This
mixture, called Soffritto, is often used as a base for sauces and soups.  Divide out ½ cup (I used 1 cup) of the Soffrito for the recipe and place the rest into a container and store in the refrigerator for up to 4 days or freeze for up to 3 months.
In a separate pot, place water to about ½ way and bring to a boil.  Put in 2 turkey sausages into the boiling water, boil until cooked 3/4 of the way through.  Remove from water and slice into thin slices.
Heat the reserve 1 cup Soffrito and beans in the same skillet over medium heat.  Cook, stirring often, until heated through, about 1 minute.  Stir in 3 cups of vegetable broth (I used 2 ½ cups of chicken broth because I found that 3 cups would be too much fluid and I prefer the taste of Chicken Broth over Vegetable Broth) (You could also do 1 ½ cups of broth and 1 cup White Wine to add
Serve as is or with garlic toast.more flavour).  At this time, I added in ½-1 tsp of cayenne and the sliced sausages, to add a little bit more flavour and spice.  Bring to a boil.  Simmer, scraping up browned bits, until liquid is slightly thickened, 3-4 minutes.  Add tomatoes and remaining 1 cup broth (I did not add anymore broth); simmer until tomatoes are tender, 3-4 minutes.  Season with salt, pepper and chopped parsley.
White Kidney/Cannellini Beans:  Are a very good source of cholesterol-lowering fiber, as are most beans.  Due to their high fiber content, beans as a whole are great foods for Diabetics or those who struggle with blood sugar regulation as they help to prevent blood sugar levels from rising too rapidly after a meal.
In addition to their high fiber content, Kidney beans are a good source of two different minerals.  First, they contain the mineral molybdenum, which aids in the detoxification process.  More specifically, molybdenum helps to detoxify sulfites, a preservative found in many different foods.  The other mineral found in these beans at higher amounts is Manganese and thus aids in energy production and antioxidant defence.